NHS Professionals welcomes new Chief People Officer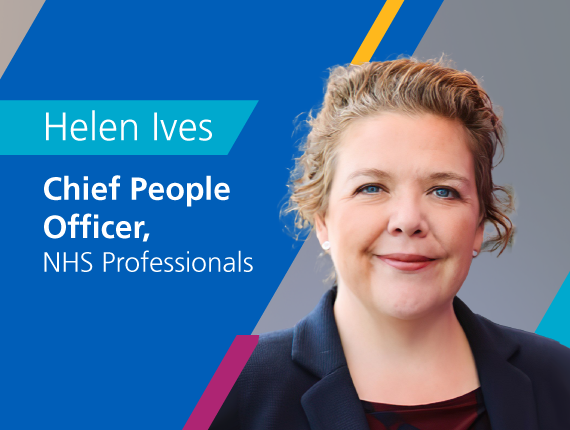 NHS Professionals are delighted to announce the appointment of a new Chief People Officer. Helen Ives, who joined the organisation in January 2023, will lead the people vision for both corporate staff (over 1200) and Bank Members (over 190,000) and deliver the employee value proposition, supporting the recruitment and retention of people into the business.
Helen brings with her a wealth of human resources experience, not only from the NHS, where she has worked for the last seven years, but from a range of sectors including technology, logistics and professional services.
Helen was the Chief People Officer at Solent NHS Trust for four years, where she designed and delivered the Trust's 'Great Place to Work' strategy and where she was awarded the Innovation in Practice Award from the British Psychological Society for her work on leadership development.
Helen was then seconded to the NHS England team as workforce and training lead for the Covid-19 vaccination programme, before joining Hampshire and Isle of Wight Integrated Care Board as the Chief People Officer.
Helen said: "I am delighted to join the team at NHS Professionals. From my own time in the NHS, I was well aware of the organisation's reputation for customer care, innovation, and determination to make a difference to the health service.
Having worked closely together previously with NHS Professionals on the vaccination programme nationally and then again in Hampshire and the Isle of Wight, I was seriously impressed with what I saw. Also with the recent announcement of NHS Professionals achieving the Top Employers accreditation, in the UK and Ireland it is a huge testament to the ongoing commitment to make NHS Professionals a great place to work for all our corporate employees.
With over 190,000 Bank Members across the country and working with over 100 NHS trusts and healthcare organisations, it is fantastic to join a company with such significant reach. The business has grown significantly over the last 20 years, and I have been excited to learn about the plans to develop our services even further, especially as we continue to work ever closer with Integrated Care Systems and Boards. I'm looking forward to delivering for our NHS, while supporting our talented corporate staff to be the very best they can be."
With an impressive track record of innovation, collaboration and partnership working, Helen is passionate about people and teams, with a focus on belonging, inclusion and connection to a common purpose.
Nicola McQueen, Chief Executive at NHS Professionals said "I thoroughly believe that people are the most important asset in our business, whether our corporate staff or Bank Members.
I am delighted that Helen has joined us: her extensive experience and commitment to a compelling employee value proposition demonstrates that she is an exceptional leader and the whole business is excited to have her onboard."